New Faces Around the Blog
Fewer than four years ago, I was introduced to the online world of pipes, and specifically to Smokingpipes.com. I spent far too much time, often during class, browsing through the seemingly endless supply of high-quality pipes that were, at that point, as unattainable to me as water to Tantalus. Imagine my elation when I realized that I would be, almost four years later, writing for the same website that started it all for me.
You're all familiar with the writings of John Sutherland, Adam Davidson, Ted Swearingen, Eric Squires, and Sykes Wilford here at Smokingpipes.com, and with good reason. They are able to put out more content than almost any other pipe-blog out there.
Lately, though, according to Sykes, they have wanted to see the blog expand even further. "We've been looking at ways to improve the blog for some time. There have been various times when we've done a great job with it and others where we've let it languish. When we first started it, I think I wrote a blog entry almost every day, but the reality is that I a) really don't have that much to say, and b) I can't sustain that pace and meet my other obligations. I think we're doing pretty well with it these days...Still, it ends up very Smokingpipes.com-centric."
In an effort to expand the number of voices and viewpoints that can expressed on the Smokingpipes.com blog, a new face or two will be popping in. "I picked people whose writing I like," Sykes told me, "It's really not any more complicated than that. I've asked you and one other so far...I'd like to see the blog grow to fifty or so posts a month and build its readership."
I think this is an admirable goal. I am a huge proponent of blogs for the pipe hobby, and I've been writing one of my own for the past couple of months. While books are fantastic and I own more than my fair share, I think that blogs have several distinct, necessary advantages: they can be easily updated; they invite a multitude of voices and perspectives; they allow for more community interaction; they are free and easy to access.
As one of those new faces, I suppose I should offer a brief introduction. My name is Ethan Brandt and I am, until tomorrow, a senior at Washington University in St. Louis. For almost my entire college career, I have been in love with pipes and have started writing about them within the last year, sometimes for Pipes Magazine and also on my own blog, "Pipe School". Getting to learn more about pipes has been one of the most enjoyable experiences that I have had and I greatly look forward to continuing that here at Smokingpipes.com.
When I asked Sykes why he thought blogs were important to the pipe hobby, he, in true Socratic fashion, flipped the question back around on me: "Why is knowledge good?"
Without delving too deeply into issues of epistemology, the question is still an important one. Why pursue more knowledge about pipes beyond the fact that you like them?
To me, with greater knowledge comes greater capacity for enjoyment of pipes. This is true in many ways: with more knowledge, one is more effectively able to prepare, pack, and smoke one's pipe and tobacco, thus getting greater pleasure. This would explain why there are so many books and essays about how to pack a pipe or properly light one.
Beyond simply addressing technique, knowledge about the method behind the creation of one's pipe, the physics and the art, forces one to appreciate the intricate details that might have gone unnoticed before. Much like it is difficult to fully appreciate Caravaggio's David with the Head of Goliath without knowledge of the Baroque style and chiaroscuro. I also extract great satisfaction out of knowing more about the person, or people, who made a pipe, much like people are fascinated by the lives of their favorite writers, artists, and musicians.
Simply put, I believe that knowledge and pleasure are directly linked in the pipe hobby. It is because of that direct link that I love the idea of expanding Smokingpipes.com's blog and am excited to be a part of the adventure.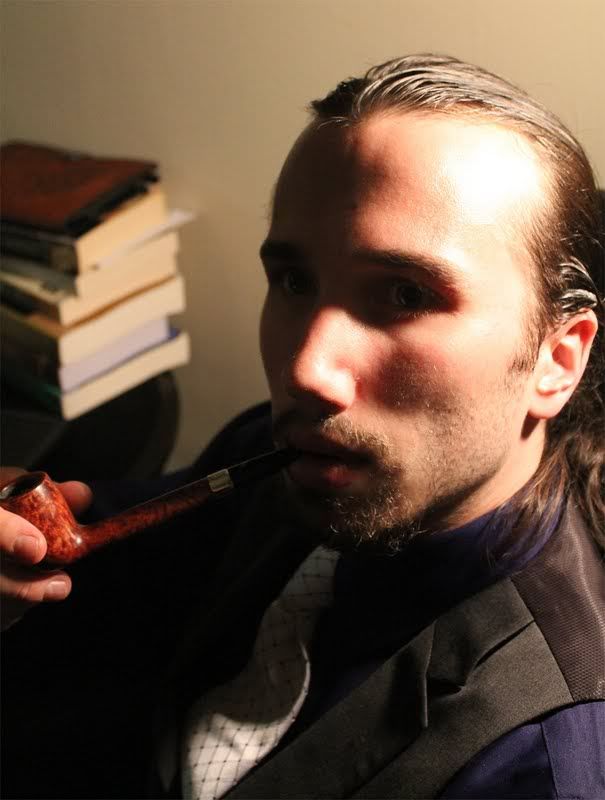 Ethan Brandt: Guest Blogger