A Grechukhin Masterpiece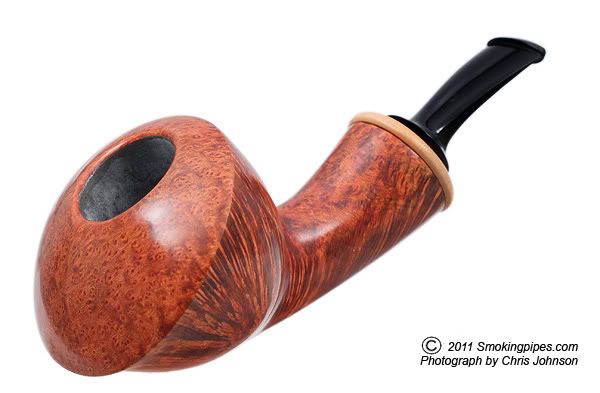 Vladimir Grechukhin is, in my opinion, the least appreciated of the widely known Russian Masters, and I view this as tragic.
Many know Viktor Yashtylov for his pipes of unusual shapes, proportions, and dimensions and his craggy sandblast, Sergey Ailarov for his intensified and rethought versions of classic shapes, especially the calabash, Michail Revyagin's double chamber pipes of truly unusual and phenomenal design, and Boris Starkov for his asymmetrical creations and minimalistic beauty.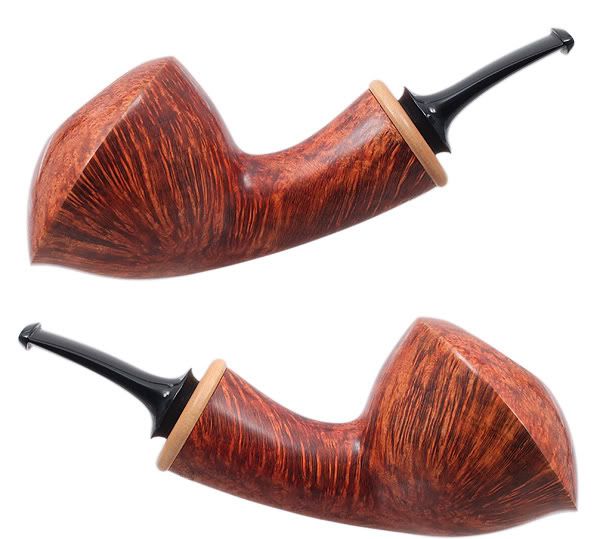 So, what is Vladimir Grechukhin known for?
First, a little background. Grechukhin started making pipes in the 1970s after training with one of the earliest Russian masters: Alexei Fyodorov. After spending only three years with Fyodorov, Alexei publicly stated that Grechukhin had surpassed the master. Now, Grechukhin has taken the place of Fyodorov as the revered master of Russian pipes. Interestingly, he has said that he prefers to get his inspiration for his work not from others pipes, but rather from cars and other technological beauties.
So, why is it that, despite all of this, Grechukhin is less known than the other Russian carvers, at least outside of the circles of those who collect Russian pipes with a passion? I cannot give an honest answer, but I can speculate. His work is not nearly as flashy as most of the others that I mentioned above. This is certainly not to say that the others are superficial (far from it), but Grechukhin's work is characterized by skillful simplicity.
To try to bring a bit more attention to this under-appreciated master, let me show you a pipe of his that I consider myself lucky to own.
This little beauty, just a tad over four inches long, seems to defy classification. It is clearly a hybrid between a Dublin and a horn, but also contains hints of a calabash shape – not the gourd calabash, but the briar rendition. My mind constantly evokes the word "mushroom" every time I hold it.
As someone with rich Russian roots, I cannot help but believe that this defiance of classic categorization is at the very heart of what it means to be Russian: we are said to be gloomy (have you seen the weather in Russia?), yet we are so often joyful; we are thought of as bleak and bland, but we have produced masterful writers, musicians, and artists.
The pipe itself thrusts forward defiantly, with bursts of beautiful grain accompanying this momentum. The chamber, however, is placed asymmetrically towards the rear. This placement helps to temper the forward push of the rest of the pipe, adding a sense of balance that clearly required a masterful hand to accomplish. Additionally, it gives opportunity for a stunning amount of birdseye to piece through on the rim.
The pipe is squat in proportions, but momentous nonetheless. In a single piece, Grechukhin succeeds in capturing the Russian experience and producing a piece that helps to explain his contributions to the pipe field: he is continuously pushing forward and defying simple categorization, yet still is able to produce the classically beautiful and, just as importantly, functional pipe.