Cornell & Diehl's Old Joe Krantz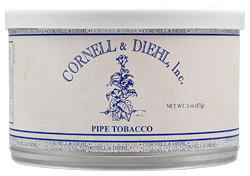 When I first arrive in the morning, I'll most often walk down the hall to get a cup of coffee, load my personal pipe with some tobacco (Orlik Golden Sliced recently) and check my emails and a few other sites to see what the news is of the day (with regard to pipes and tobaccos). I was reading a pipe forum this morning and came across a thread about Burley tobaccos, and so decided to read some posts as to have a better understanding of what smokers around the world are discussing. Interest in Burleys seems to have lately increased among smoking circles that have previously focused mainly on Virginias or English blends - just look at the extreme popularity of the newest MacBaren Dark Fired offering. In this thread about Burley tobaccos however, it was Prince Albert, McClelland bulks, and Cornell & Diehl's Old Joe Krantz that were the main focus.
In the past few years, it seems like I was hearing this name a lot. The way people have compared it to other Burley offerings, it seems like it's not only a convenient staple in many cellars and carry-with pouches, but as good as or better than famous blends from yesteryear. With a moniker that sounds like a man that could play a slow, yet soulful and growling acoustic guitar along the likes of Muddy Waters and Robert Johnson, the name certainly strikes a chord. I also knew a farmer growing up as a kid whose last name was Krintz. He looked like he could have been plucked right out of any year between 1860-1940 and we called the always-dusty Santa Clause doppelganger "Old Mr. Krintz". There certainly is something trustworthy in a name like that.
So...after reading yet another post about this tobacco that seemed to have so many fans, I finally decided to try a bowl. Admittedly, I rarely try new tobaccos. Perhaps only a few times a year do I drift away from my Orlik Golden Sliced or Samuel Gawith Full Virginia Flake, but I had the itch to see what Old Joe Krantz was all about. Picking up a Luciano pipe and heading down to the store, I located the jar next to all of the other Cornell & Diehl offerings. Burley, in general, is not the most exciting tobacco to look at. Eye-catching black and yellow ribbons that other blends have are traded for simple medium-brown leaf and nothing else. The tobacco is somewhat flaky and dry to the touch with irregular ribbons and chips of tobacco. But, noting a tantalizingly nutty and slightly sweet scent, I loaded up my pipe.
Don't let the rough look fool you: this is a tobacco that lights easily by the slightest touch of flame and tamps down with ease. The initial puffs lend something sweet and nutty. Not cloying by any means, but a flavor similar [to me] of a subtle chocolate-covered-peanut that wakes up the taste buds, accompanied by a smoke that wafts up to bring a bit of spice to the nostrils in a most pleasant way. There are also lingering, slightly sweet spice aftertastes (hot cinnamon and nutmeg) that make me realize why this is so popular. Old Joe Krantz is as easy burning and flavorful - yet contemplative and interesting - as any blues man worth his ribs would be. I'm glad I finally tried it.
Adam Davidson: Quality Control & Pipe Inspector