In Search of Mac Baren Mixture
Reporting from the Holiday Inn at Cologne-Bonn Airport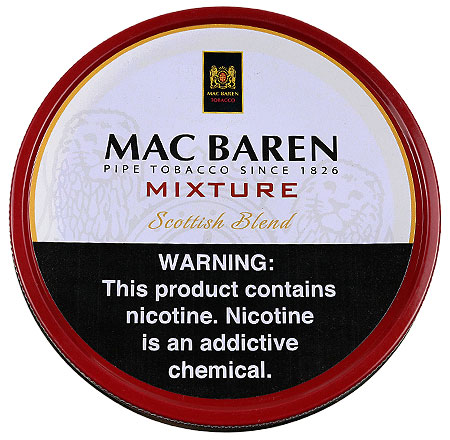 Tomorrow morning I fly home to the States. Right now, I am rather happily ensconced in a smoking room at the Holiday Inn walking distance from Terminal 2 of the Cologne-Bonn Airport, which is where I need to be at 5am tomorrow morning. But this little missive isn't about airports or hotel rooms in Germany. It's about pipe tobacco. Or, at least, my very disappointing quest to purchase some this afternoon. The irony of it all, of course, is that I was just at the Dortmund Inter Tabac Fair. Indeed, this very morning, I chatted with folks from both Mac Baren and Samuel Gawith. And at about 2pm, I didn't have any pipe tobacco left.
I had brought most of a tin of lovely, aged GL Pease Haddo's Delight with me on the weeklong trip. I had thought that I also had a tin of Mac Baren Navy Flake with me, completely forgetting that it wasn't in my laptop bag because Alex Florov and I smoked the last of it last weekend on the way home from Morganton, NC, where we were (along with Alex's wife, Vera, and Susan Salinas from Smokingpipes.com) for Craig Tarler's funeral. Suffice it to say, that if I had been at home, that much Haddo's would probably have seen me through the five days I have actually been on the ground in Germany (apparently even I don't fly enough with Delta for them to let me smoke my pipe on the plane). But this trip was all about pipes and pipe tobacco and I have had a pipe in my mouth pretty much permanently since Wednesday morning when I arrived. I spent my first two days here with a dear friend and fellow pipe smoker who lives in Cologne. While neither of us are particular intemperate pipe smokers individually, you put us together for a couple of days and we can consume some pipe tobacco.
Then came the Dortmund show, and the smoking continued apace. Friday night, I had dinner with folks from Brigham pipes from Canada at a place that was supposed to allow smoking, but didn't. They were irritated and disappointed we couldn't smoke. My tongue was actually a tiny bit relieved.
Last night and the previous night, I stayed a few kilometers from the Dortmund show because I'd procrastinated in booking my hotel room and all the nearby hotels were sold out. This really wasn't such a big deal, though. I was rather enjoying the twenty minute drive to and from the show. It gave me a chance to collect my thoughts and smoke my pipe (don't tell Avis). This morning, I realized that I was rapidly nearing the end of my supply of Haddo's. The situation was dire; I had maybe two bowls left. But, not to worry, I was going somewhere with pipe tobacco; I'd have a ready supply at the show.
My first stop at the show this morning was to have a quick word with the folks from Mac Baren. While I was there, I loaded half a bowl from their sample jars, and proceeded to chat with them. Now, if I'd had the inclination to ask Per Jensen for enough Navy Flake to make it through the day, he, I am quite sure, would have happily obliged. I just don't want to be that guy. I just didn't want to ask Per, again, to solve my tobacco emergency for me (I admit it, this isn't the first time I've planned poorly in the pipe tobacco department while traveling).
But, I wasn't terribly worried. This is Germany after all, isn't it? Doesn't Germany consume more pipe tobacco than any other country? Per capita, it has something like five times as many pipe smokers as the United States. Surely, I'd find pipe tobacco at a gas station on the way to the airport. Since it's Sunday, and since Germany has laws prohibiting most retail on Sunday, a side trip into Cologne to go by Peter Heinrich's wonderful shop to buy some pipe tobacco wasn't in the cards.
I figured there was a decent chance I'd find some Mac Baren Navy Flake even or maybe some of the Virginia Ready Rubbed we can't get in the States. At the very least, I thought, I would find some Mac Baren Mixture or Virginia No. 1. I know epically vast quantities of Mixture are smoked in Germany and figured it'd be the corner store standard. And while there are a couple of Mac Baren blends I'd reach for before Mixture, Mixture is really good. I'd have been perfectly happy.
Alas, such was not the case. I stopped twice, perused the tobacco offerings and didn't see any pipe tobacco in either case. I was a little surprised and a bit miffed with the first stop, but figuring it was an aberration, a little hole of pipe tobacco sadness amidst the riches of such that one would expect of Germany, I stopped a second time. Again, no luck.
I got to the hotel and checked in and was pleased that they could give me a smoking room, until, of course, I realized I had nothing to smoke. I took it anyway, hoping at least that I had a bowl's worth of in the pipe tobacco crumbs at the bottom of my briefcase.
A little later, I took my rental car back to the airport and walked on back to the hotel. Within easy walking distance of the route was another gas station. I figured I'd take one more shot at it. I peruse the tobacco selections and again see nothing. I begin to despair. I tentatively ask (I speak almost no German) "pfeifentabak?" The woman behind the counter looks at me funny; I'm not sure if it's because my accent is so bad that she couldn't make out what I was saying or that being asked for pipe tobacco is just not something that she is accustomed to. But, she suddenly gets it and turns around. I expected her to point towards the selection of pipe tobacco that I had just failed to see. A small ray of hope was beginning to break through the clouds. My personal sound track began playing something rather inspirational, like the chorale from Beethoven's 9th Symphony. She turned back around and slapped a pouch of Exclusiv Royal on the counter. The rather celebratory music suddenly screeched to a halt like someone knocked the needle across the record.
At this point, I just sputtered. All pretense of German ended and I blurted out, in English, "Is that it? Is that all the pipe tobacco you have?" I was so disappointed. And the woman, who is perhaps the only person in Germany who does not speak English, looked at me perplexed and slightly offended. She eventually figured it out from my tone and general exasperation and rather exasperatedly pointed at the pipe tobacco section. Which had exactly one facing. I bought the pouch of Exclusiv Royal. What else could I do?
I pondered, extremely briefly, not buying it. I could make it through thirty-six hours without tobacco; no problem. But I had this smoking room at the hotel that was desperately needing to be smoked in. And I pictured myself with a very sad face sitting in the Atlanta airport smoking lounge tomorrow with nothing to smoke. Seriously, I really enjoy being the only guy I ever see who smokes a pipe in the Atlanta airport smoking lounges. So, I relented and plopped my 6.25 Euros on the counter. At least it was pretty cheap. Any other European country and the taxes would have made it 10 Euros.
I mean, I expect that sort of selection in the US. A gas station, if they have any pipe tobacco at all, has maybe a pouch of Captain Black and a pouch of Half & Half for sale. But this is Germany, Dammit! I held Germany in a sort of pipe tobacco esteem. My vision of this country involves rolling hills, buxom blond girls in traditional German outfits carrying large beers, and a good pipe tobacco selection on every corner. I've spent a lot of time in Germany over the years and realized that the first two images weren't really all that true, but I'd never tried to purchase pipe tobacco outside of Peter Heinrich's shop ever before. The last piece in my slightly irrational vision of German greatness was dashed.
But, I'm smoking the Exclusiv Royal as I write. It really could be a whole lot worse. I vaguely remember carrying it eight or so years ago, but I don't think I ever tried it at the time. It's lightly flavored straight virginias with sort of an odd square cut (it says 'granulated' on the pouch). It's smokable. But definitely not Mac Baren Mixture. Tuesday morning, when I'm back in the office, I'm buying a small stack of tins of Mac Baren Navy Flake and sticking them in my briefcase, my rolling carry-on luggage and the garment bag I usually check. We will not have a repeat of this little adventure.
Sykes Wilford: Founder/President