Product Number: 003-537-0004
The Captain Black blends are a line of aromatic Cavendish concoctions that enjoy an immensely widespread popularity the world over. The Cherry blend, as you might expect, combines sweet-smoking Cavendish leaf with a sound kick of cherry casing, for a very flavorful smoke.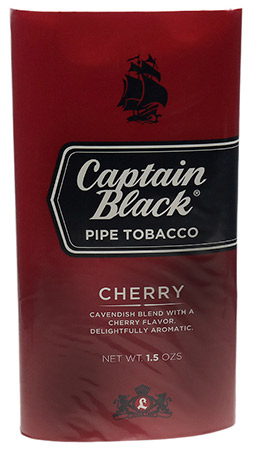 Customer Reviews
Overall Rating:
2.63 out of 5 stars
Very tasty
March 01, 2014
By: Russell G.
The most flavorful and delicious tobacco I smoke out of the 50 other blends I have. An all time favorite if there ever was
Not very cherry...
February 13, 2014
By: Benjamin W.
It's okay for a cherry blend. Let's put it this way, if they stopped making this flavor I wouldn't shed a tear.
What Marcus G. said.
June 28, 2013
By: Joe G.
Smells great, good room note, very little to medium cherry taste, not worth a second try.
Bland but not unpleasant
March 04, 2013
By: Marcus G.
If you need a wonderful smelling tobacco with little flavour, this is for you. The aroma in the pouch is decadent. But when smoked it's very bland. I'll finish what I have, but I won't be re-ordering.
Customers who smoke Captain Black Cherry 1.5oz tend to also smoke these:
$8.25 $5.83
You Save: $2.42!
Ask a question about this Captain Black tobacco
Tin Sales Rank: 118