Product Number: 003-021-0017
Sweet Oriental and a bit of Latakia carefully blended with Bright and Red Virginias, pressed and lightly stoved. Great as the `first pipe` arousing the palate for the further pleasures of the day.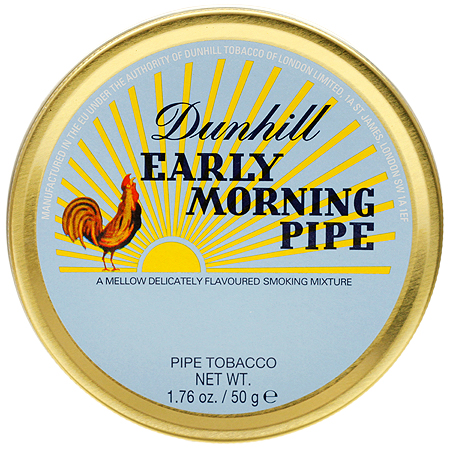 Customer Reviews
Overall Rating:
3.19 out of 5 stars
Typical Dunhill
November 09, 2013
By: Peter m.
For some reason I feel these Dunhill blends are made in vast amounts and as a result the quality control is lacking and the tobacco suffers. Some love it but not me!
Not impressed
November 03, 2013
By: Bret C.
Not sure if i got a tainted batch or something, but I was not overly impressed with this flavour. I found it quite chemical tasting, and too sharp. It left its flavour in one of my pipes, and took almost a week to get rid of it fully.
The name says it all
September 04, 2013
By: Phillip P.
Pretty plain
August 22, 2013
By: Timothy S.
Just a plain ole "English blend", very much like Nightcap, or 965, just ever so slightly lighter in flavor . Not good, not bad. Better now that the price has came down a little. It was grossly over-priced for what you received.
The best part of waking up is EMP in my pipe
July 15, 2013
By: Jamison M.
Customers who smoke Dunhill Early Morning Pipe 50g tend to also smoke these:
$12.60 $7.89
You Save: $4.71!
Ask a question about this Dunhill tobacco
Quantity Discount:
Tin Sales Rank: 18