Product Number: 003-039-0075
A bold flake of dark-fired burleys in a well balanced unity with Flue-cured Virginias. This flake is Hot Pressed, meaning that during the pressing, heat is added by steam to the tobaccos which causes the tobacco to intensify the marrying process giving us a bolder tobacco. The robust, earthly flavour of the dark-fired burleys shines through in the taste, and you will experience a deeply satisfying smoke indeed.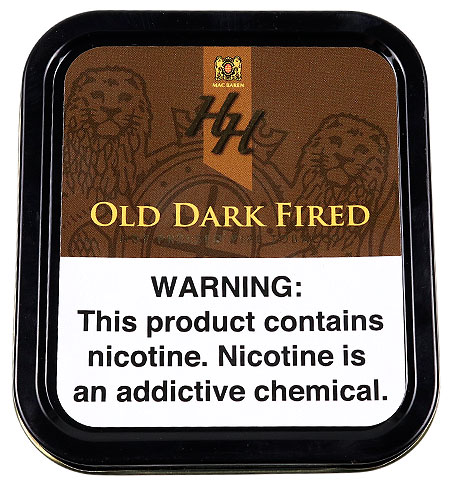 Customer Reviews
Overall Rating:
4.11 out of 5 stars
Too Strong
April 01, 2014
By: Jeff M.
I guess if you need the nic this is a good one. Its not for me, too strong on the nic. Taste is flavorful but the cigar note bothered me. even if i needed the nic hit it would be 3 stars I smoke Bosphorus Cruise, 3 oaks,Frogblends, balkan flake, etc
Fantastic
November 13, 2013
By: Theodore B.
This makes my favorites list. Nothing inextricable -- just a fine and rewarding smoke. Highly recommended.
super Great Burley Based Tobacco!
October 17, 2013
By: Skip N.
All good things said about this blend are true. Do yourself a favor and try it. You'll be back for more!
Addendem
October 14, 2013
By: Timothy S.
HH Old Dark Fired Flake
October 08, 2013
By: Johnny R.
Customers who smoke Mac Baren HH Old Dark Fired 100g tend to also smoke these:
$19.01 $13.39
You Save: $5.62!
Ask a question about this Mac Baren tobacco
Tin Sales Rank: 44