Product Number: 003-039-0007
Mac Baren Vanilla Cream is a colorfull blend mixed with cut plugs. Manufactured from specially selected and aged Virginia and mild black Cavendish tobaccos. Then blended with an exceptional Vanilla Flavor. This selection creates an outstanding blend with superior flavor, unique aroma and distinctive taste experience.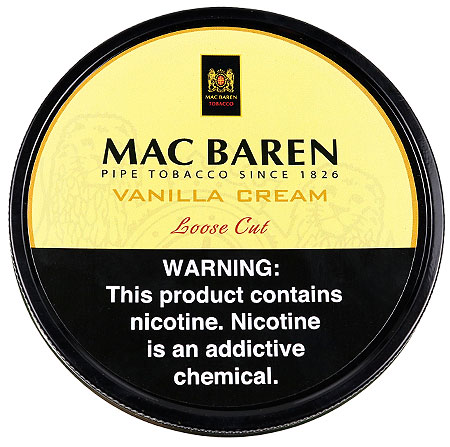 Customer Reviews
Overall Rating:
3.25 out of 5 stars
Not bad...
March 07, 2014
By: Benjamin W.
As far as vanilla blends go this one is not bad. Nice vanilla tin note. The aroma and flavor are pretty good. Minor to no tongue bite.
Upon glancing back...
July 26, 2013
By: Joe G.
After finishing the tin, I found it to be bitey, and won't be ordering it again, as I could barely taste any vanilla.
Delightful Aroma!
July 20, 2013
By: Trace F.
I keep a few pinches of this in its tin to remind me of how delightful the vanilla aroma is. Although I can't detect any vanilla flavor while smoking it in my pipe, I'm still giving this a solid 5 stars!
By: Joe G.
Not a bad smoke, hints of vanilla cream, best smoked slow as quick smoking causes tongue bite and/or irritation, wonderful scent.
Addendum to prior...
April 01, 2013
By: Scott C.
Customers who smoke Mac Baren Vanilla Cream 100g tend to also smoke these:
$12.72 $8.96
You Save: $3.76!
Ask a question about this Mac Baren tobacco
Tin Sales Rank: 197