Product Number: 003-041-0056
Components: Black Cavendish Burley Virginia Family: Aromatic
Cut: Ribbon

Quiet, soothing, always agreeable, the pipe is a fine companion when filled with this ever-civil, mellow blend consisting of Burley, Cavendish and Black Cavendish with a peaches & cream aroma.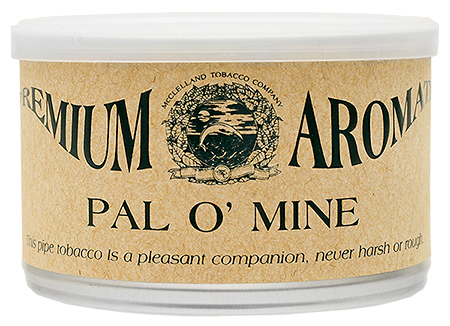 Customer Reviews
Overall Rating:
4.08 out of 5 stars
The best fruit aro. Period.
January 29, 2014
By: Christopher B.
Peachy Keen!
December 25, 2013
By: Joe G.
Not bad, a mild taste of peaches, which seem to get warm with each smoke, reminding me of peach cobbler, and filling the room with the same scent. No bite at all, very mild, and tasty.
By: Peter m.
This tobacco is really a gem, perfect blend. I keep this for weekend smokes as I love the difference this blend offers. I must say it is addictive as the flavor is really unusual and really satisfying. Typical excellent blend from McClelland!
It really does taste like a peach!
September 24, 2013
By: Rene D.
Ok so this is an aromatic that does what is says! I have tried many aromatics and most never taste nor smell like what the tin claims. Not a big fan of aromatics but you can't go wrong when the truth is written right on the tin! : )
Nice Cavendish
September 26, 2012
By: Torrey S.
Customers who smoke McClelland Tinned Premium: Pal O' Mine 50g tend to also smoke these: