Product Number: 003-041-0013
The name Frog Morton comes to us from the works of JRR Tolkein Frogmorton: A village in the Eastfarthing of the Shire. Frog Morton is a unique blend of Virginias and Latakia. Ribbon cut and hand blended, this first blend in the series has many loyal fans.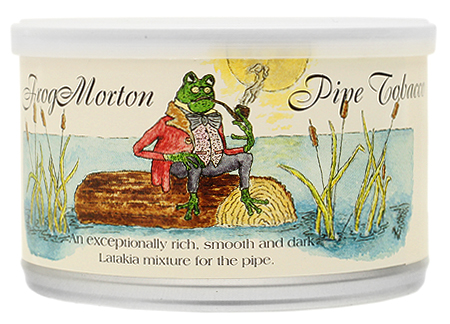 Customer Reviews
Overall Rating:
3.60 out of 5 stars
Not Bad! Not great!
January 05, 2014
By: Eric C.
This one caught me by surprise. I was expecting great, and was caught off guard with an average smoke. The latakia smokiness overwhelms the tin note, but is very relaxed in the flavor. I will keep it cellared, but won't re-order.
This is wonderful!
December 10, 2013
By: Josh N.
Very smooth Latakia, mild with a fantastic dark earthy flavors.
Really Like This One
November 09, 2013
By: Steve A.
Great Blend
September 24, 2013
By: Rene D.
Very smooth blend, wonderful aroma, cool smoke and a delicious flavor. As somewhat of a beginner still, I have been all over with as many blends as I can and this from the first bowl became a regular smoke!
Customers who smoke McClelland Tinned Craftsbury: Frog Morton 50g tend to also smoke these:
$11.88 $8.93
You Save: $2.95!
Ask a question about this McClelland Tinned tobacco
Tin Sales Rank: 62