A milestone like a 145th anniversary is a cause for unprecedented celebration, and Savinelli celebrates with what they know best: Pipes and pipe tobacco. Those seven generations of quality craftsmanship have culminated in two elegant products for the discerning pipe smoker: A Virginia/Perique tobacco elevated by Italian Dark-Fired Kentucky, and a Savinelli pipe in a high-grade, smooth Apple shape with a commemorative sterling silver accent, the details for each of which are available below.
1876 was a year of breakthroughs: Thomas Edison patented the mimeograph, Alexander Graham Bell made the first telephone call, Pyotr Ilyich Tchaikovsky completed Swan Lake, Mark Twain published Tom Sawyer, and in Milan, Italy, Achille Savinelli opened one of the first shops exclusively focused on tobacco and smoking accessories.
That last item may seem relatively unimportant in the global scheme of advancements, but for those of us who love pipes, it was a monumental achievement, made even more difficult by the Italian government, which held a monopoly on tobacco. In addition, Achille was convinced that briar pipes represented the future of pipe smoking at a time when the market was dominated by clay and meerschaum. It may not have been obvious in 1876, but Achille Savinelli's commitment to briar pipes would prove to be visionary – eventually elevating Italy not only as a premium supplier of briar as a pipe-making material, but also of well-constructed and designed briar pipes.
Today, 145 years after Achille opened his first shop, Savinelli pipes are among the most popular smoking instruments in the world, prized for their unique Italian flair, tasteful finishes, and quality craftsmanship. To celebrate such a phenomenal achievement, the marque recently released a two-part project to commemorate their 145th anniversary: A unique Virginia/Perique pipe tobacco and a special, one-shape commemorative series of pipes.
145th Anniversary Pipe Tobacco
Handcrafted in partnership with Cornell & Diehl, Savinelli's 145th Anniversary blend is a unique, cake-cut Virginia/Perique mixture designed to showcase the marque's Italian heritage. Spicy, piquant Perique elevates a base of matured Bright and Red Virginias, enhanced by double-fermented Dark-Fired Kentucky from the Tuscan Tiber Valley region of Italy – a location recognized for its 300-year history of tobacco cultivation. Redolent with notes of chocolate, dark fruits, and a hint of citrus, Savinelli's 145th Anniversary is a distinctive Va/Per with excellent balance, its underlying smokiness pairing exceptionally well with a caffè ristretto.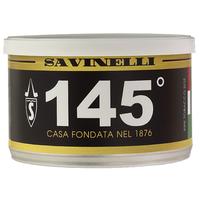 145th Anniversary Pipes
Savinelli's 145th Anniversary pipe pays tribute to the marque's storied legacy with a classic, elegant bent Apple shape, complete with a plump rounded bowl and gentle 1/8 bend reminiscent of the marque's popular 626 design. Accompanied by a broad sterling silver band bearing Savinelli's iconic logo, the 145th Anniversary pipe is available in either the warm finish of the Punto Oro Smooth Natural or the lighter, chestnut finish of the top-tier Giubileo D'Oro. Each pipe is serialized, and only 145 pieces were made – the first five being Giubileo D'Oro grades, followed by 140 Punto Oros.