Ashtrays: Savinelli Ceramic 1 Pipe Green Ashtray
Product Number: 001-218-0019
From the venerable makers of fine Italian briars and accessories, Savinelli presents their latest ashtray/pipe rest combo — featuring a deep ash well, two interchangeable cork knockers, and a one pipe rest set within the tray itself. Made from ceramic and available in three different colors (jet-black, milk-chocolate brown, and deep, forest green), these handsome, yet utilitarian designs are perfect for any room or patio.

Measurements: H 1 3/4" W 5 1/2"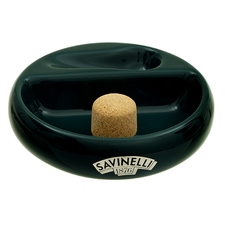 Customer Reviews (1 Total)
Practical, simple, handsome
June 12, 2020
Product: Ashtrays Savinelli Ceramic 1 Pipe Green Ashtray
Fits a wide range of pipe shapes, is easy to clean, and it looks good anywhere I bring it.