Ashtrays: Stinky One Piece Ashtray Black Matte
Product Number: 001-218-0073
Founded by Bill "Stinky" Salviano in 2004, Stinky ashtrays have become ubiquitous in the cigar world, making regular appearances in lounges and patios thanks to their robust builds, large ashwells, and built-in cigar rests. Stinky offers a variety of models, many of which come in a number of different finishes, meaning that no matter what kind of space you have, Stinky offers an ash receptacle to match. This particular model is the One Piece ashtray, appropriately crafted from a singular piece of solid stainless steel with or without a finish applied overtop. This style of construction makes for a design that's nigh unbreakable, with a deep well in the center that can hold up to three cups of ash and six cigar rests for smoking with friends. Rustproof and windproof in up to 30mph conditions, this Black Matte ashtray can live up to all of life's rigors with ease, and thanks to its impressive capacity, can actually float in water for enhanced relaxation in the tub, pool, or spa.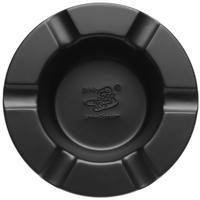 Customer Reviews (0 Total)
Overall Rating: No reviews yet.