Humidification: Boveda Humidor Starter Kit (50-Count Humidor)
Product Number: 001-250-0004
An industry leader in tobacco humidification, Boveda's two-way, humidity-control packs regulate the moisture content of your humidor, ensuring your cigars are stored in the safest conditions and ready to smoke.
A brand new wooden humidor, however, requires a seasoning process that acclimates the wood to proper humidity levels. Failing to adequately season a new humidor results in irregular humidity retention, an improper storage environment for cigars, and — ultimately — frustration, yet many suggested seasoning techniques, such as wiping the humidor with a damp cloth, are met with equal frustration and insufficient results. Thankfully, Boveda's Humidor Starter Kit provides all the essential materials and an easy, step-by-step process that eliminates the hassle often associated with seasoning a new humidor.
Specifically designed for a humidor sized to hold 50 cigars, this kit comes complete with two 84% RH Boveda packs for initial seasoning, two 72% RH Boveda packs for maintenance, and thorough instructions for easily seasoning your new humidor. Then, once the humidor is properly seasoned, simply rely on Boveda's other, standalone humidification packs to regulate the humidor according to your personal preferences.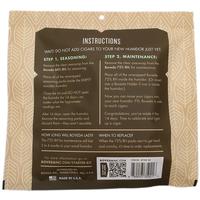 Customer Reviews (0 Total)
Overall Rating: No reviews yet.