Lighters: IMCO Silver Pipe Lighter
Product Number: 001-068-0203
IMCO has been in the lighter business a long time; since 1918 in fact. Originally founded as a button and hardware manufacturer by Julius Meister in 1907, following WWI changes in market demands led Julius to convert the entire operation over to producing pipe and cigarette lighters. This in turn led to IMCO becoming one of the best-known makers of the old "trench lighter" (which used surplus cartridge brass for the fuel tank), predecessor of the Zippo.
In this model IMCO offers something considerably more modern - not to mention lighter in the pocket, yet still offering plenty of butane capacity as well as a fold out tamper and reaming blade.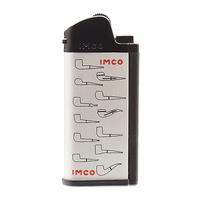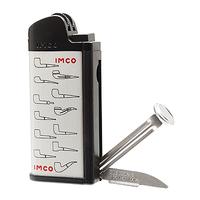 Customer Reviews (2 Total)
great, reliable lighter
November 28, 2018
Product: Lighters IMCO Silver Pipe Lighter
I've had one for a bit over 20 years. and it still works perfectly, and holds a large amount of gas.
Outstanding!
January 03, 2017
Product: Lighters IMCO Silver Pipe Lighter
Great lighter! I have it for five years and he never "betrayed"! Reliable, solid, robust!