Lighters: Kiribi Tomo Orange Leather
Product Number: 001-068-0234
A fusion of multi-functionalism and Art Deco-inspired aesthetics, the Kiribi Tomo presents both a reliable pipe lighter and pipe tool, all housed within a singular, svelte arrangement. With a folding dottle pick and tamper combination tool concealed in one compartment and an additional fuselage for fuel, this fellow is sure to be your new best friend. Available in a wide variety of finishes, such as an elegant black matte and gold, an all black matte, as well as blue, red, and the orange leather seen here.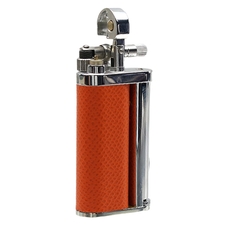 Customer Reviews (2 Total)
Oh well....
September 18, 2019
Product: Lighters Kiribi Tomo Orange Leather
Takes several strokes to light it, if at all. No directions on how to make adjustments. Maybe I'm just an old gut with nothing better to do!
Product: Lighters Kiribi Tomo Orange Leather
Very solid lighter, only problem, the built in tools are to short.