Pipe Accessories: 4 Pipe Stand
Product Number: 001-069-0121
Whether you keep a smaller collection, have a few long-stemmed numbers rattling around that won't fit into your present pipe furniture, or your collection is starting to overflow, but you don't yet feel the need to by a whole new piece to accommodate the loose extras, this hardwood stand is a simple and affordable option.
Base measures 7" W x 4.25" D.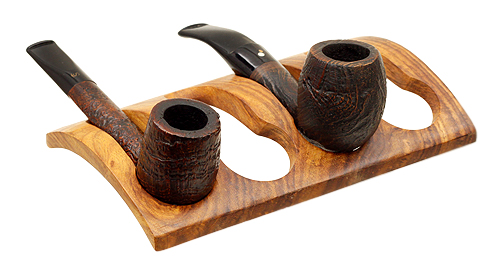 Customer Reviews (2 Total)
Works well
November 02, 2017
Product: Pipe Accessories 4 Pipe Stand
I use this stand for the pipes which refuse to stand upright in my other 'fancier' stands....if you understand my dilemma this stand is for you.
Product: Pipe Accessories 4 Pipe Stand
I was always having to place the "Canadian" and the like style in the other pipe holders, Not a problem with this great basic design. I would order several, if my supply of that style of pipes is large, for they fast from the shelve.