Pipe Accessories: Scott Tinker Spalted Tulip Poplar and Ebonized Cherry 3 Pipe Stand
Product Number: 001-069-0329
Professional opera tenor soloist turned woodworker Scott Tinker takes a very hands-on approach to his craft, as in, wherever feasible he favors actual hand-tools over powered tools, creates his own varnishes from natural, raw resins and oils, and champions extra-fine hand planing over sanding when it comes to producing a superior finish. The planing technique is particularly noteworthy, as it really does a wonderful job of bringing out a wood's potential for reflective properties, and a beautiful shimmer — as Scott points out, even fine-grit sanding will leave a wood's surface "fuzzy" at a microscopic level, diffusing the light that strikes it.
For this three-pipe piece, Scott applied his craft to producing a stand strong on contrast, using darkly-streaked spalted tulip poplar for the centerpiece, supported by ebonized cherry arches. The ebonizing process isn't one of merely dyeing the wood black, but rather relies on a reaction with its own natural tannins, producing a superior opacity.
In this 3-pipe stand, each pipe can be securely held in place through a series of magnets. Just place one of the magnetic balls into the bowl of your pipe and align it with the corresponding magnet inlay situated within the stand. The result is a minimalist presentation of your favorite briars and meers.
Measurements: L 11 3/4" D 3 3/4" H 2"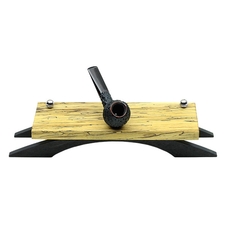 Customer Reviews (0 Total)
Overall Rating: No reviews yet.