Pipe Accessories: Woodmere 2 Pipe Stand Teak
Product Number: 001-069-0397
This Woodmere 2 Pipe Stand is handcrafted from carefully selected, solid teak. Able to hold two of your most prized briars or meers, it features two reclined seat-style rests, and a hand-applied, glossy lacquer finish to allow the hardwood's predominantly golden grain to shine through.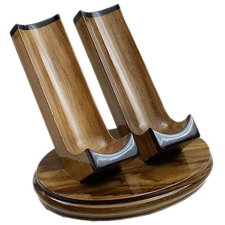 Customer Reviews (2 Total)
AStunning Pipe Stand
May 21, 2017
Product: Pipe Accessories Woodmere 2 Pipe Stand Teak
This 2-pipe stand will accommodate, of course, a wide variety of pipe styles. I have a Savinelli Autograph with a tall bowl. This style pipe stand really highlights the tall bowl or chimney pipe. Just beautiful! Sherman in Baltimore
Wonderful purchase!
February 23, 2017
Product: Pipe Accessories Woodmere 2 Pipe Stand Teak