Pipe Accessories: Brigham 2 Pipe Bag with Tobacco Pouch Vintage
Product Number: 001-069-0526
With loops for two pipes, a zippered pocket for accessories, and an included tobacco pouch, this Brigham Pipe Bag is an all-in-one travel case for two trusty briars and day's worth of your favorite blend. Here's it's offered in a vintage presentation for that weathered, broken in look.
Measurements: H 4.25" L 7.75" D 1.75"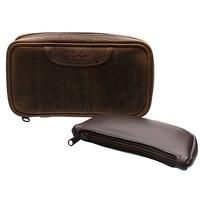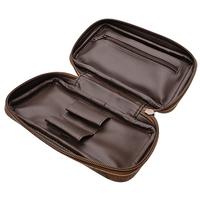 Customer Reviews (2 Total)
Perfect Fit
September 17, 2019
Product: Pipe Accessories Brigham 2 Pipe Bag with Tobacco Pouch Vintage
This pouch fits my oddly shaped Nording pipes very well. Plenty of room for larger sized pipes without forcing the zipper closed and no bulging. I like the separate tobacco pouch, more convenient for loading the pipe.
Great bag, almost perfect
December 04, 2020
Product: Pipe Accessories Brigham 2 Pipe Bag with Tobacco Pouch Vintage