Pipe Accessories: Pipe Chair 1 Pipe Stand
Product Number: 001-069-0534
Allow your pipe to sit in the same style as you with this wooden pipe stand in the style of a beach chair. Quite the neat piece, it ensures your favorite briar has a place of honor, wherever you might want to keep it.
Measurements: H 3" W 2 3/4" D 3"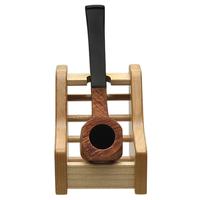 Customer Reviews (1 Total)
Chair of Honor
May 16, 2019
Product: Pipe Accessories Pipe Chair 1 Pipe Stand
The perfect place for my special pipes. Very well made and adaptable to pipes of any style, holds a pipe like a glove. First class product!!!!