Pipe Accessories: Scott Tinker 6.5 Inch Maple Burl Tobacco Plate
Product Number: 001-069-0568
When it comes to mixing up a personal blend, or simply giving a few bowls worth of freshly opened tobacco some time to air, there are a number of options available. You can use a piece of a paper, for example, and crumple it up and toss it away when your done. Or you can swipe a dinner plate from the kitchen cabinet for temporary re-purposing.
Or, if you actually want something perfectly sized for the task, as well as more pleasing to the senses, you can keep an item special-made for pipe aficionados around. Something like Scott Tinker's hand-made, delicately shaped tobacco plates, that is. Six and a half inches in diameter and crafted from maple burl, this one would make for a beautiful choice.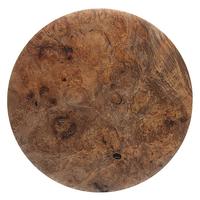 Customer Reviews (0 Total)
Overall Rating: No reviews yet.