Pipe Accessories: Neal Yarm Solid Back 7 Pipe Stand Oak
Product Number: 001-069-0655
A handsome pipe stand rendered from oak, this piece by artisan woodworker Neal Yarm holds a full seven-day set, with soft, velvet padding at both top and bottom to prevent damaging the finishes. Designed to hold a number of shapes and sizes, including bent and straight pipes, this is a fine piece for keeping track of your rotation.
Measurements: L 13" H 2 5/8" D 4 1/4"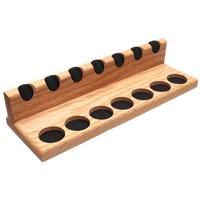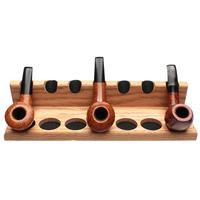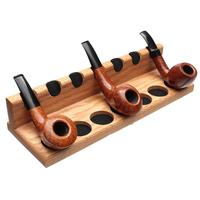 Customer Reviews (1 Total)
A fine stand for a beloved rotation
October 17, 2020
Product: Pipe Accessories Neal Yarm Solid Back 7 Pipe Stand Oak
I bought one of these to see how it stacked up to my current favorite stand and I must say, I am buying another to replace my previous favorite. Very well made. The pipes are easily accessible and the presentation is trim and functional.