Pipe Accessories: Keyhole Pipe Rack (24/36 pipes)
Product Number: 001-067-0014
Constructed by hand by Chuck Gardner in Little River, South Carolina, the Keyhole Pipe Rack is the solution to what many pipe enthusiasts find a particularly frustrating aspect of pipe collecting. Constructed from solid oak, the Keyhole Pipe Rack is designed to be the most functional, most versatile, most durable pipe rack you've ever owned.
Let's face it: pipes are shaped to be smoked and to be beautiful. They're not shaped to be easily stored (as the pipe craziness in my own living room can attest). Various solutions for this have been attempted over the years. It's easy to elegantly display one or two pipes at a time. A dozen becomes problematic and multiple dozen frequently becomes seriously difficult, especially if your entire collection doesn't happen to be medium sized straight billiards.
In the past, pipe racks with multiple tiers solved this problem one of two ways. Either a hole was drilled in the back of the base for the tier above or entire tiers were separated within a rack. The former has the problem we've all experienced: if it's not a medium sized straight billiard, you're pretty much out of luck; it simply won't fit. The second solution can be found on very expensive racks, but it's very space intensive and, almost always, very costly. Mr. Gardner has come up with the perfect solution: shape the slot like a keyhole, making it possible to accommodate a vast number of pipes, either arranged laying down in a given keyhole shaped slot, or upright, with the stem behind the bowl of the pipe above it.
Further, knowing intimately the needs of the pipe smoker (being one himself and listening to us as he went through revision after revision and refinement after refinement), the space efficient nature of the rack makes it possible to offer plenty of space for each pipe and the flexible options the keyhole format offers means that diverse sizes of pipes can be accommodated: it holds a group 2 Dunhill billiard and a Ser Jacopo Maxima bent ball with similar finesse. How are we sure of this? With access to a few thousand pipes at the Smokingpipes.com offices, we spent an hour playing the "I bet this won't work" game with every weirdly shaped pipe we could find. Yes, Bear Graves, our resident copywriter and ardent devotee of absurdly large pipes, did find a stupendously large Ardor Giant that didn't work, so we're not claiming they'll hold anything. Just any pipe that doesn't require a forklift to move about.
Dimensions: 26 5/8"W x 13 2/8"H x 3 1/2"D

Keyhole Dimensions:
hole diameter: 1 3/8"
slot diameter 7/8"
slot length: 2 7/8"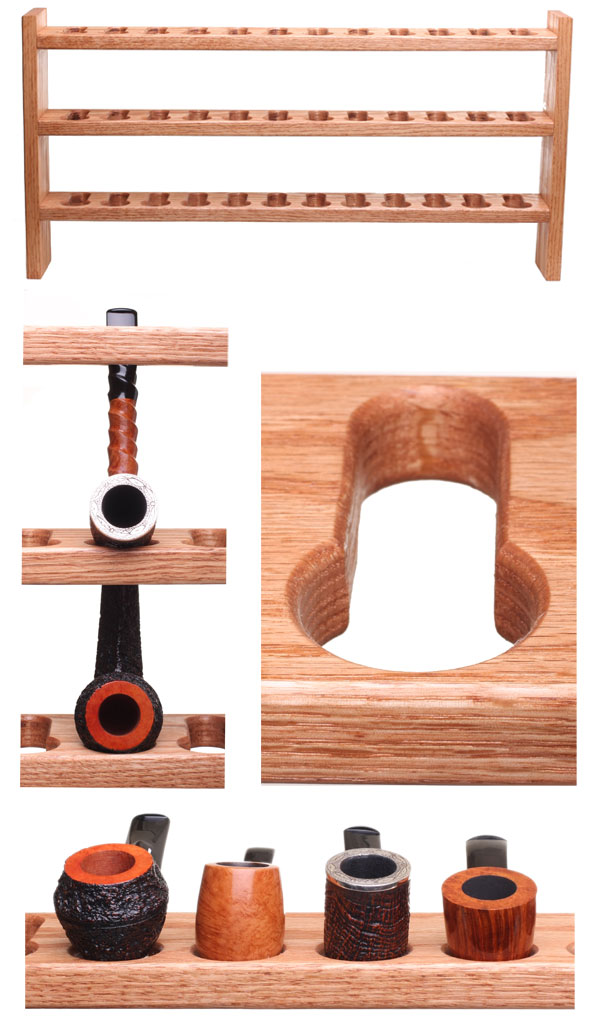 Customer Reviews (0 Total)
Overall Rating: No reviews yet.