Stands & Pouches: 1790 English Tobacco Box Copper with Eagle
Product Number: 001-069-0281
Anyone who knows Adam Davidson, knows Adam Davidson has a thing for items, artifacts, craftsmanship, and history related to the 18th-century Americas. Sure enough, he's the one who turned these up: tobacco boxes fashioned in a style common to the late 1700s, the like of which would have been stocked at most early trading posts.
Construction is hand-soldered, with no lead-bearing solder used, and the materials are exactly what they appear to be; the brass models are brass, the copper models are made of copper, and the German silver models are German silver - a type of hard-wearing, high nickel-content brass, for those not already familiar with it. There's no plating or finish here, in other words, and the only materials used are those in the title, the solder, and the steel pin of the hinge.
Measures 4"x 2"x 5/8"
Note: Government regulations require that any metal container not treated with a food-grade coating carry a warning sticker by the manufacturer, which these tins do have. The materials used in these won't actually affect your tobacco; however, tobacco's slight acidity will affect the metal, encouraging it to develop a patina of darker color (think antique brass). While some prefer that look, if you wish to keep the metal brighter, placing the tobacco in a small plastic bag or treating the inside of the tin with a thin coat of carnuba (or similar, food-safe) wax is advised.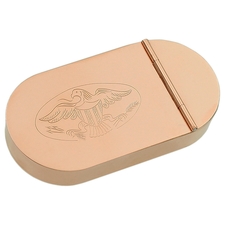 Customer Reviews (2 Total)
Product: Stands & Pouches 1790 English Tobacco Box Copper with Eagle
It is what it is.
Great little tin!
February 12, 2018
Product: Stands & Pouches 1790 English Tobacco Box Copper with Eagle
Love my copper tin, perfect for carrying matches, Just get some strike anywheres and cut a bit of sandpaper and attach to the top of the lid. You will have to invest in brasso if you want to keep it shiny though, as it will patina rather quickly.