Stands & Pouches: Acrylic Pipe Clip
Product Number: 001-069-0332
A simple item for setting up your own pipe display, this translucent acrylic cradle is designed to be mounted on a backing surface (mounting screw is included). Works best with shapes of medium-or-greater bowl bowl height, such as Apples, Dublins, Billiards, etc.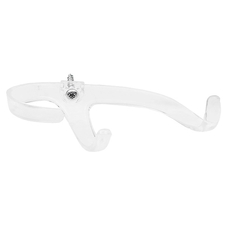 Customer Reviews (1 Total)
Does not come with screw
October 01, 2021
Product: Stands & Pouches Acrylic Pipe Clip
Very cool little pipe holder, but be warned, it doesn't come with a screw. Not a deal breaker for me.