Stands & Pouches: Chacom Leather Roll Up Pouch Yellow
Product Number: 001-069-0400
As much as pipe smoking might be associated with things like dark hardwoods, dark-finished leather, and the kind of lighting that can only be provided by candle, oil lamp, or 5-watt incandescent lightbulb, some do like a little more color. This smooth, supple roll-up by Chacom provides that well, with a snazzy mellow yellow.
Dimensions (folded):
Width - 6.13"/156mm
Height - 3.20"/81mm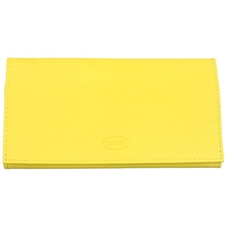 Customer Reviews (1 Total)
nice item....
September 24, 2016
Product: Stands & Pouches Chacom Leather Roll Up Pouch Yellow
...nice item.... soft leather....great yellow color....just wish it had wrap around cord (or something in that respect)...to keep it securely closed.....