Stands & Pouches: Abe Herbaugh Jade Magnetic Single Pipe Stand
Product Number: 001-069-0458
Perfect for displaying a prized briar or meer, these magnetic single pipe stands from Abe Herbaugh balance function with striking aesthetics for quite a standout accessory all around. Emulating the look of antique Bakelite, Abe hand-casts the Bell-shaped bases for these stands by hand, using the same polyester material he employs for his colorful mouthpieces. Though quite small, these stands will still steadily hold even a larger pipe as well; what's more, the tops of each base are lent a bit of padding to ensure no finishes are scratched or marred while on display. Available in Aqua, Amber, Cobalt, or the Jade you see here.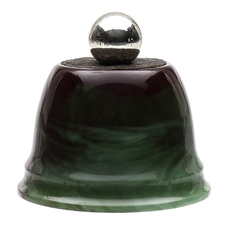 Customer Reviews (1 Total)
Product: Stands & Pouches Abe Herbaugh Jade Magnetic Single Pipe Stand
Great to have a few of these scattered around my office since I don't have space for a larger rack. Though the magnet is strong, a thin-walled pipe is easiest to arrange on top of this.