Stands & Pouches: Abe Herbaugh Amber Magnetic Single Pipe Stand
Product Number: 001-069-0460
Perfect for displaying a prized briar or meer, these magnetic single pipe stands from Abe Herbaugh balance function with striking aesthetics for quite a standout accessory all around. Emulating the look of antique Bakelite, Abe hand-casts the Bell-shaped bases for these stands by hand, using the same polyester material he employs for his colorful mouthpieces. Though quite small, these stands will still steadily hold even a larger pipe as well; what's more, the tops of each base are lent a bit of padding to ensure no finishes are scratched or marred while on display. Available in Jade, Aqua, Cobalt, or the Amber you see here.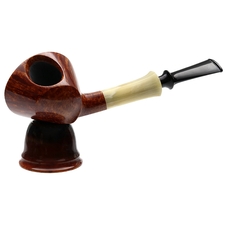 Customer Reviews (2 Total)
A Great Pipe Holder
March 25, 2023
Product: Stands & Pouches Abe Herbaugh Amber Magnetic Single Pipe Stand
Surprisingly stable and strong, these magnetic stands not only look great, they hold pipes in place perfectly. If you're looking for an alternative to your average pipe stand or pipe rest, this is definitely one to consider.
Strong and sexy
October 26, 2017
Product: Stands & Pouches Abe Herbaugh Amber Magnetic Single Pipe Stand
Looks great and holds strong...really strong. I would buy again. Attaboy, Abe