Stands & Pouches: Claudio Albieri Smokingpipes Leather Cleaners Holder Black
Product Number: 001-069-0488
For those who want their whole kit to be as snazzy and well-made as the pipes they carry, you're not likely to find a pipe cleaner holder on par in either quality with those made by Claudio Albieri — even in as simple an accessory as this, the leather is beautiful, the stitching is tight and neat, and it is offered here in simple jet-black, adorned with our very own Smokingpipes logo.
Measurements: L 7.35" H .17" W 2.68"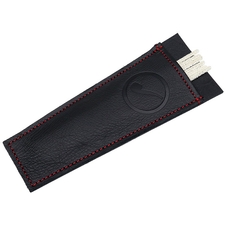 Customer Reviews (2 Total)
Quality Craftsmanship!
December 14, 2022
Product: Stands & Pouches Claudio Albieri Smokingpipes Leather Cleaners Holder Black
Great travel pouch to keep extra cleaners handy.
Very good
February 18, 2021
Product: Stands & Pouches Claudio Albieri Smokingpipes Leather Cleaners Holder Black
This is made out of good quality Italian leather. Highly recommended keeps the pipe cleaners from getting too badly Bent and in one place