Stands & Pouches: Claudio Albieri Italian Leather Accessory Pouch Tan/Russet
Product Number: 001-069-0507
There's no reason your pipes and tobaccos should be the only ones to get a beautiful case — why not give your accessories the same respect? With these Italian leather accessory pouches from Claudio Albieri, you have two pockets to work with, and plenty of space to ensure your favorite lighter and pipe tools are kept free from damage, and easy to find. Available in a variety of colors, including this tan and russet edition.
Measurements: L 4" H 4.75"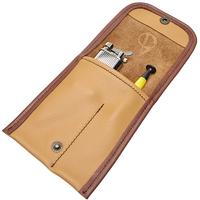 Customer Reviews (1 Total)
Product: Stands & Pouches Claudio Albieri Italian Leather Accessory Pouch Tan/Russet
Well made and fits my lighter and tamper like a glove!