Stands & Pouches: Genuine Leather 1 Pipe Combo Pouch Black
Product Number: 001-069-0679
For your on-the-go pipe-smoking needs, this single-pipe combo pouch features a zippered tobacco compartment along the top lined with odorless surgical latex for easy cleaning and premium tobacco preservation, ensuring your favorite blends remain ready-to-smoke for as long as possible, while the bottom half features a second zippered pocket for storing a pipe. It's found here with a black, leather exterior and a flap secured by two metal snaps.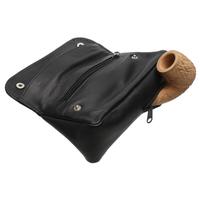 Customer Reviews (1 Total)
Five Stars For Sure.
April 20, 2022
Product: Stands & Pouches Genuine Leather 1 Pipe Combo Pouch Black