Stands & Pouches: Claudio Albieri 10th Anniversary 1 Pipe Combo Pouch
Product Number: 001-066-0071
Claudio Albieri's passion for pipes and tobacco began when he turned 18 and was able to work in his family's tobacco shop in Italy. He's a man that completely immerses himself in his interests, and this love for pipes and tobacco led Claudio to continue his training and education in the hobby, completing a master class in tobacco provided by Davidoff and attending numerous pipe shows. Also an accomplished leather worker, Claudio combines that skill and passion with his love for pipes and tobacco, and the Italian craftsman has become renowned worldwide for his exquisite and luxurious, leather smoking accessories. Not only does his work represent the utmost quality, but it's designed by a pipe smoker for pipe smokers, catering to the specific needs of those involved in the hobby.
This special 10th Anniversary Claudio Albieri one-pipe pouch was released in 2022 and celebrates a decade of the Italian artisan's handiwork. It's handcrafted from superior Italian leather and features an integrated pipe pocket in the center, with flaps on either end fitted with an accessories pocket as well as a large tobacco pouch lined with high-grade, stain-resistant surgical rubber to keep your tobacco fresh for everyday smoking. The front bears Claudio's logo as well as "10th Anniversary," while the inside bears the date "2022" and the individual pouch's serialization. Only 10 total pouches were made for this select anniversary line, and it's offered in a singular colorway of grey and black.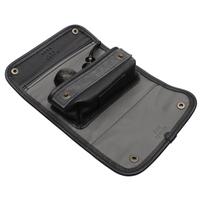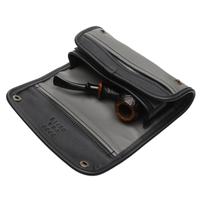 Customer Reviews (0 Total)
Overall Rating: No reviews yet.