Pipe Tools & Supplies: Neerup Leather Pipe Cleaning Kit
Product Number: 001-545-0184
An all-in-one pipe cleaning kit, this Neerup offering combines bristled brushes of three different sizes (for stems and draft-holes, for mortises, and for chambers), a stainless steel chamber reamer, a stainless steel shank reamer, and a polishing cloth, in a single modestly sized leather case. The polishing cloth has its own dedicated pocket, the brushes and shank reamer are held in place by elastic loops, and the chamber reamer is retained by a pocket for the blade and a buttoned strap.
Case measurements: H - 5.17"/131mm W - 4.32"/110mm D - 1.25"/32mm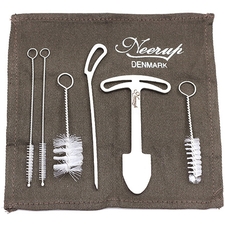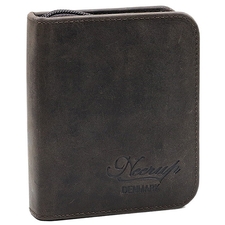 Customer Reviews (6 Total)
Very Nice
February 27, 2019
Product: Pipe Tools & Supplies Neerup Leather Pipe Cleaning Kit
Very nice well made kit. My only (small) complaint is that the leather is brown, not black...but I will live ;) As far as the reamer, it is a Neerup pipe kit, I don't own a Neerup yet, but maybe all of their chambers are cut the same? Very Nice.