Pipe Tools & Supplies: Joseph Rodgers Premium Smokers Knife Blue
Product Number: 001-545-0213
Joseph Rodgers of Sheffield produces these pipe knives in a simple, functional design, though also with a great deal of variety in style, from those with antler, bone, or dyed wood scales to one in understated, brushed stainless steel. Aside from the obvious tamping foot, each of these also features a folding, round-tipped blade for trimming back cake, and a folding dottle pick.
Approximate measurements: Width - 0.33"/8mm Height - 0.63"/15mm Length - 3.35"/85mm (folded)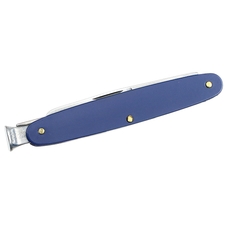 Customer Reviews (1 Total)
Go 4 it!
December 10, 2017
Product: Pipe Tools & Supplies Joseph Rodgers Premium Smokers Knife Blue