Pipe Tools & Supplies: b-Humy Olivewood Select Tamper
Product Number: 001-545-0426
Born out of a collaboration between Gabriele and Claudio Albieri, b-Humy offers a wide range of smoking accessories, from pouches and tampers to humidifiers. This olivewood tamper is a simple, practical pipesmoking necessity. Both ends are flattened at an angle, allowing tobacco and ashes to be scooped from the edge of the chamber to the center, affording greater control and ease, and the crisp taper allows the smaller end to be used as a pick. The natural hue and vivid grain of the olivewood also offer a natural aesthetic that's sure to match well with any pipe.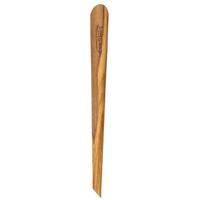 Customer Reviews (1 Total)
Good tamper.
January 24, 2019
Product: Pipe Tools & Supplies b-Humy Olivewood Select Tamper
Great design. Keeps bowl walls neat. A tad bit overpriced. Tooling marks on the cut ends. For the price I think some finishing sanding would be in order.