Pipe Tools & Supplies: Ueda Smooth Briar & Silver Tamper with Cumberland
Product Number: 001-545-0510
Handmade by Mr. Ueda of Tokyo, these tampers are each an impressive work of art. Cut from briar, Mr. Ueda uses a technique for his finishes known as urushi, which he has learned and developed with Smio Satou. Ten layers of the lacquer compound make for a stunning, glossy finish with all of the briar's natural grain on display in vivid colors. The tamper's base and pick are crafted from .925 sterling or .950 Britannia silver for the perfect balance of shine and utility. On top of that, the engineering is top-notch: the silver tamping feet have been screwed onto the base, so that the tamper and pick can be cleaned without damage to the urushi finish, and rubber is used to create a solid seal, without any extra looseness or tightness developing with time.
Each comes in its own, carrying bag, which are handmade by Mr. Ueda's wife and dressed with urushi, using a technique known as inden, making each bag unique. At every stage, each detail of these tampers and their bags has been carefully chosen to ensure it's a tool — and a work of art — you can keep for a lifetime.
These tampers are offered in a number of styles, with this one featuring a neatly-patterned cumberland cap. Because of the differences in pieces of briar, no two of these tampers will be exactly the same, and you should expect some reasonable cosmetic variation between the example we've photographed and the tamper you'll receive.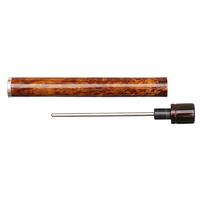 Customer Reviews (0 Total)
Overall Rating: No reviews yet.