Pipe Tools & Supplies: Scott Tinker Masur Birch and Gaboon Ebony Zeppelin Tamper
Product Number: 001-545-0576
Professional opera tenor soloist turned woodworker Scott Tinker takes a very hands-on approach to his craft, as in, wherever feasible he favors actual hand-tools over powered tools; creates his own varnishes from natural, raw resins and oils; and champions extra-fine hand planing over sanding when it comes to producing a superior finish. The planing technique is particularly noteworthy, as it does a wonderful job of bringing out a wood's potential for reflective properties, and a beautiful shimmer — as Scott points out, even fine-grit sanding will leave a wood's surface "fuzzy" at a microscopic level, diffusing the light that strikes it.
Crafted from masur birch and Gabon ebony wood, this Zeppelin tamper features a rounded and ever-tapering profile in line with its namesake and measures 3.25 inches in length. It showcases Tinker's minimalist and functional style, with the birch section unscrewing to reveal a pick housed in the ebony body.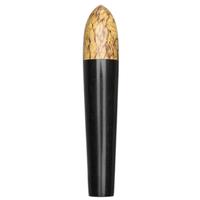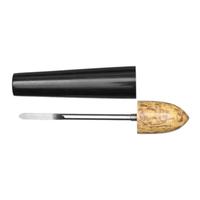 Customer Reviews (0 Total)
Overall Rating: No reviews yet.