Tampers & Tools: Neerup Shank Reamer
Product Number: 001-545-0188
If pipe-cleaners or bristle brushes won't do the job, this Neerup item will help clear out the toughest build-up or blockage from a shank. It consists simply of an 11/64"/3mm thick length of stainless steel, chisel-shaped at the tip and cut with a loop-shaped handle to allow for better leverage and control.
Length from base of handle to tip: 3.42"/87mm
Do not operate while drowsy or impaired, aim away from face, etc.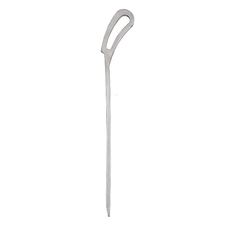 Customer Reviews (2 Total)
"Good For Shanks, Not Draftholes"
September 25, 2020
Product: Tampers & Tools Neerup Shank Reamer
Size Matters
November 26, 2018
Product: Tampers & Tools Neerup Shank Reamer