Tampers & Tools: 8deco Club Tamper Sapphire, Pearl, and Black
Product Number: 001-545-0539
These practical and affordable 8deco tampers feature a threaded pick, hidden within the fuselage, and a vented foot — allowing the smoker to tamp their bowl without suffocating the ember.
This example features a swirling mix of sapphire, black, and shimmering pearl colors, wonderfully complementing the bright metal foot.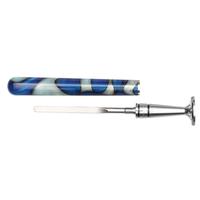 Customer Reviews (1 Total)
Wonderful pipe tool...
January 27, 2021
Product: Tampers & Tools 8deco Club Tamper Sapphire, Pearl, and Black
It works perfectly. I've had a few compliments on the looks also. Well worth the money I paid. Definitely recommend.