Gifts: Smokingpipes Poster (2017 Edition)
Product Number: 001-507-0060
For 2017's Smokingpipes poster, we aimed to offer something both practical and striking. On side A, you will find a visual tribute to the father of modern fantasy literature (as well as one of the most renowned pipe smokers in history). On the reverse, you will find a spread of unmarked pipe silhouettes — the objective being to guess which makers or artisans correspond to each pipe. Of course, if you get stumped, you can check your answers here. Enjoy!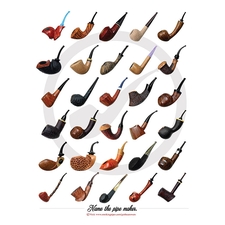 Customer Reviews (1 Total)
Beautiful poster!
February 27, 2018
Product: Gifts Smokingpipes Poster (2017 Edition)
In not sure which side to show, maybe I should have bought two! Very happy with this poster and hope there is a 2018 version soon.