Gifts: Ebauchon Briar Pipe Kit Amber Acrylic Stem-Straight
Product Number: 001-507-0107
For those who love pipes and want to take a more hands-on approach, our briar pipe kits are the perfect way to get your feet wet in the world of pipe making*. Featuring an ebauchon briar block and a straight, acrylic stem, this pre-drilled piece will allow you to make your own pipe with some simple tools. Many a great carver has started with simple experimentation, and with its drilling and stem already finished, this kit is primed for you to start your pipe-making adventure. Who knows what beautiful grain and intriguing shape lie within?
*Do not make pipes with wet feet. You could slip and fall.
Note: These kits are not photographed individually, so the briar block you receive will have some noticeable differences compared to the one pictured here.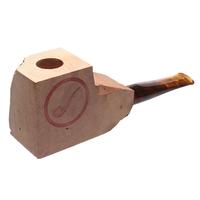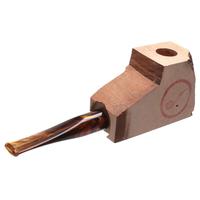 Customer Reviews (1 Total)
A fun and easy project. Decent drilling.
June 11, 2022
Product: Gifts Ebauchon Briar Pipe Kit Amber Acrylic Stem-Straight
Pack a bowl in your favorite patio pipe, grab a $10 Nicholson rasp and sandpaper from Home Depot, and have a fun project. 5-10 hours and you'll have a piece in your collection that you're proud of.