Best Selling Tinned Pipe Tobaccos
The 25 top selling tinned tobaccos here at smokingpipes.com. This list is automatically generated by our software once per day. This calculation is also used to determine the tinned tobacco sales rank that you find on each tobacco.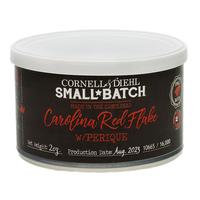 TODAY'S BEST
Cornell & Diehl:
Carolina Red Flake with Perique 2oz
Fresh!
Components:
Virginia, Perique
Family:
Virginia
Cut:
Flake
Top User Review By:
Ichiban dipper
TOP 25 Best Selling Tinned Pipe Tobaccos
(Updated Nightly, Monthly Rolling Average)
Tinned Pipe Tobacco Specials