Gift Wrap
Price: $4.99
Is your order a gift? Have it gift wrapped by us in lovely, masculine black matte paper, tied with a Smokingpipes.com burgundy bow. Most items will be packed in an appropriately sized gift box and then wrapped (round tins are really tough to wrap), which makes for a particularly fetching and professional looking gift.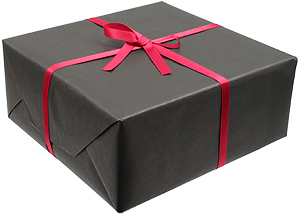 If you can wrap, save yourself some time. If, like me, you end up getting the tape stuck to the cat instead of the paper, just save yourself the embarrassment and have our great folks in shipping do it for you.
Just hit add to cart to the right there and we'll do the rest (well, not me, but people far more competent with tape than I am).
-- Sykes Wilford