Villiger: Mid-Day 50g Pipe Tobacco
Product Number: 003-464-0002
A mixture of double steamed Black Cavendish, blended with Burley, Orient and light Virginia tobaccos. A delightful aroma and top note vanilla and exotic fruit make this a mild and pleasant smoke in the early afternoon.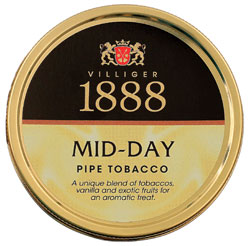 Customer Reviews (2 Total)
Almost a winner...
January 24, 2013
Product: Villiger Mid-Day 50g
This aromatic is as described and easy to like. The room note is enjoyed by everyone, but the next day there is a lingering cigarette stench the wife can't stand. Great for puffing outside.
Nice aroma ,great price
June 28, 2012
Product: Villiger Mid-Day 50g
This is one of my new favorites, easy all around aromatic. Excellent price too.