Super Value: Whiskey Cavendish 1.5oz Pipe Tobacco
Product Number: 003-706-0010
Super Value's Whiskey Cavendish is an easy-burning and cool smoking, mellow aromatic consisting of Cavendish, Burley, and a whiskey top-note.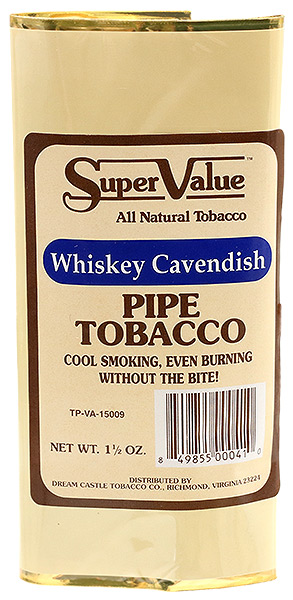 Quantity Discounts

Ask a question about this product.
Also available:
Whiskey Cavendish 12oz
Components:

Black Cavendish

Family:

Aromatic

Cut:

Ribbon
Customer Reviews (2 Total)
It's not bad
June 25, 2018
Product: Super Value Whiskey Cavendish 12oz
I like the flavor but the tobacco can sometimes bite. Like most tobaccos, it should probably be set out to dry before smoking. If there's no flavor and it bites with every draw, odds are it's too wet.
제일 향이 안나던 제품
March 24, 2016
Product: Super Value Whiskey Cavendish 1.5oz
제가 여름에 잘못시켜서 그런건지 아니면 너무 싼배송을 시켜서 그런지.. 파우치 중간 밀봉도 안되어 있어 개봉하자면 대부분이 향이 날라가버렸드라구요. 밀봉만 잘되어 있고 추운 계절에 시킨다면 괜찮을수도 있겠네요. 이 씨리즈 파우치 죄다 시켰다가 향 다날라가고 그냥 버린 제품들이네요.. 특히 버터럼, 바닐라, 초콜렛과 함께 시켰는데 요녀석은 향이 먼지도 모르게 뒤석이고 향도 약했답니다. 최소한 향초는 밀봉은 해줘야하는데 말여요