Lasse Skovgaard Pipes
3 Total

Lasse Skovgaard Jorgensen, the son of Benni Jorgensen, makes pipes in beautiful Praesto, Denmark. He shot onto the scene at the Chicago pipe show in 2004 and has had a loyal following ever since. He got his start making buffalo horn tampers for W.Ø. Larsen with the occasional pipe lesson from his father thrown into the mix.

At 18, he began working for W.Ø. Larsen and was soon crafting some of their beautiful straight-grain pieces. Taking early lessons from his father and Teddy Knudsen (and later sharing a workshop with Teddy), Lasse has developed his own style of sandblasting and finishing - something of a light blast with highlighted peaks. Rarely does he use any accents besides bamboo, though he does occasionally use oak and other hard woods. Most of Lasses pipes are graced with vulcanite mouthpieces, and he sometimes fits factory-designed nylon or delrin tenons into them for ease of wear. His highest grade, the Lion, is featured on pieces with exquisite grain or unique shaping that well deserve the stamp.

Lasse's style, unsurprisingly, reflects that of his father to a great degree. Both father and son exhibit strong stylistic influences from Teddy, and more broadly, the Larsen stylistic school that Teddy did so much to define. There are definite differences between the work produced by Benni and that of Lasse, though. While their more classical shapes share the same framework, their more avant-garde pieces can be strikingly different. In both cases, often the seed of a shape idea, from Lasse's Whale shape to his Elephant's Foot shapes, can be traced through Benni to Teddy or directly to Teddy's work, but the resulting compositions are very much his own, having left his own distinct stylistic imprint.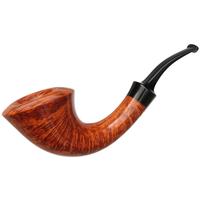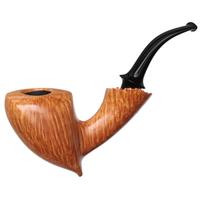 Portfolio for Lasse Skovgaard