Todd Johnson: Wu-Tang, Chris Ying, David Chang, Deng Feng, Yin-Yang Calabash with Bamboo, Juma, Bakelite, and Clay (Phalanx) (Q) Tobacco Pipe
Product Number: 002-194-0156
Todd Johnson never does anything half-assed, especially when it comes to fields he's passionate about. Besides being a revered artisan pipe maker, he's also an accomplished chef, approaching cuisine from as artistic and technical perspective as he does briar and pipe making. Every year that he's submitted a pipe to our American Pipe-Making Exposition, Todd's taken the opportunity to challenge not only himself but also what's considered possible within the craft at large. Year after year, he competes against himself, striving to craft something better and more impressive than what he fashioned the year before. 2022's Exposition centers on Calabash engineering, and this is Todd's entry.
"Wu-Tang, Chris Ying, David Chang, Deng Feng, Yin-Yang" is an admittedly loquacious name for a pipe. Yet, its rhyme scheme adds a pleasant rhythm; its over-the-top length matches the pipe's dramatic flair; and, more importantly, it's the name given by its carver, referencing personal aspects of Todd's life as well as the pipe's specific attributes. Let's break it down:
Wu-Tang — In 1993, the rap group Wu-Tang Clan released their debut album Enter the Wu-Tang (36 Chambers), setting the standards for hardcore hip-hop throughout the 1990s. The group comprised nine individual members, and the subtitle "36 Chambers" is theorized as referencing the Supreme Mathematics of Five Percent philosophy, in which the number nine is equated with existence. "36 Chambers" specifically refers to the four cardiac chambers of each of the nine members' hearts. Moreover, the group's love of kung fu films furthered the 36 Chambers motif, alluding to the film The 36th Chamber of Shaolin. In their songs, Wu-Tang often compared their lyrical prowess to deadly martial art skills. Wu-Tang's debut album was a paradigm-shifting record, and its renown is cemented in history: ranking 27th on Rolling Stone's 500 Greatest Albums of All Time list and being selected for preservation in the Library of Congress for its historical and cultural significance. Likewise, this Todd Johnson pipe pushes the boundaries of pipe design and testifies to the skill and creativity of its maker.
Chris Ying and David Chang — These references honor Todd's culinary passion and his favorite podcast: The Dave Chang Show. David Chang is a world-renowned chef and founder of Momofuku, a cooking empire comprising luxury restaurants, at-home kitchenware, and innovative cuisine. Chris Ying co-hosts the podcast with Chang, and as a duo, they balance each other out, with Ying's even-keeled, on-topic demeanor counteracting Chang's more free-spirited and unrestrained approach. Todd often draws inspiration from cuisine in his pipe making, whether literally or figuratively, and this pipe — while wild and seemingly "out there" — still maintains a keen sense of balance in its flavors and textures — its colors and lines.
Deng Feng — Qiu Deng Feng is a revered potter from Taiwan who specializes in artisan teaware, and he made the clay chamber cap for Todd's Calabash. The art of crafting teapots in China dates back centuries, and it uses a special type of clay named after the city of Yixing, China. Yixing clay is prized for its elevation of the tea-drinking experience; over time the clay absorbs trace amounts of the tea, creating an interior coating that improves the brewing process and the tea's flavor. Like many pipe smokers who reserve specific pipes for specific tobacco blends because of the flavors imparted to the briar, tea connoisseurs will brew only one type of tea in individual teapots. As with pipes, teapot craftsmanship is regarded as a form of functional art, merging technical engineering with stunning aesthetics, and teapot collectors regularly pay tens of thousands of dollars for teaware potted by master artisans. Deng Feng is one of these master artisans, and Todd commissioned a special Calabash chamber cap from him personally — an homage to his own love for tea and artisan teapots, as well as his time spent in China earlier in life.
This clay chamber cap sits atop a briar cooling chamber, and the rim is glazed with a gorgeous gradient of jade, turquoise, and charcoal, adding a pop of color and matching the trim Bakelite accent at the shank end. The clay offers an entirely unique smoking experience, and will absorb the flavors of pipe tobacco. Unlike briar, though, the clay can be "un-ghosted" by simply being run through a dishwasher, according to Todd.
Yin-Yang — The ancient concept of yin and yang centers around opposing forces and the beautiful interconnectedness, cohesion, and harmony they achieve through their tension. This idea encapsulates the nature of this Todd Johnson pipe and its influences: Wu-Tang Clan was rough and brusque in its presentation and yet smooth and elegant in its skillful lyricism and rhythm; Chris Ying and David Chang fill vastly different roles as podcast hosts, yet bring harmony and balance to the listening experience; and Deng Feng's clay chamber cap dramatically contrasts the traditional use of briar, yet it matches the pipe's aesthetic and its use for teapots mirrors many aspects of briar pipe making. This piece is a lesson in contrast and the inherent balance within perceived dichotomies. Moreover, all of the personages referenced in this pipe's title are masters of their craft, whether in the field of music, cuisine, or pottery. Similarly, Todd is a master of his craft and is widely considered among the best pipe makers in the world. This pipe represents that mastery and his legacy thus far.
As for the pipe itself, a curling section of bamboo comprises much of the stummel, flaring consistently toward the bowl. Despite this dramatic curve, Todd drilled it smoothly — a feat of craftsmanship — ensuring pristine airflow and a dependable smoking experience. The stem is fashioned from Juma, meeting the shank at a trim Bakelite accent whose hues match those of the clay chamber cap. For diversity and convenience, Todd also provided two different chambers: One is the aforementioned clay chamber handcrafted by Qiu Deng Feng, fitted to a briar cooling chamber; the other is a standard, traditional briar chamber, without Calabash engineering and displaying an asymmetrical, organic shaping that maximizes the briar's grain. This is a one-of-a-kind pipe from Todd Johnson — likely the first of its kind with a clay chamber — and it's the perfect commemoration of his passions and an amalgamation of his decades of experience, well deserving of his highest grade: Phalanx Q.
-Truett Smith
Fullscreen
Video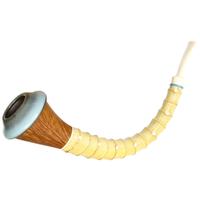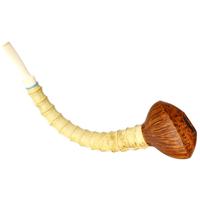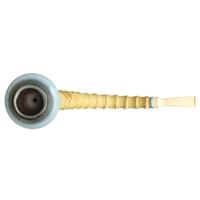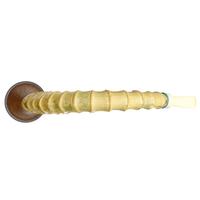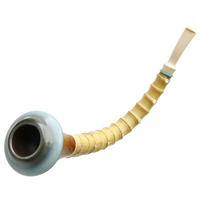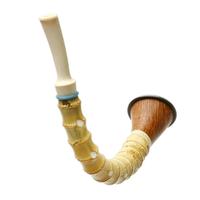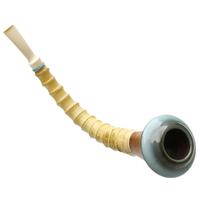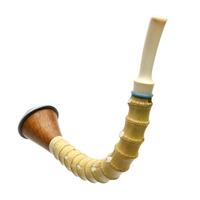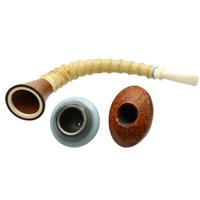 We are sorry, but this pipe has sold. Look below to find similar pipes.
Measurements & Other Details
Length:

10.40 in./264.16 mm.

Weight:

4.50 oz./127.57 g.

Bowl Height:

2.60 in./66.04 mm.

Chamber Depth

: 1.10 in./27.94 mm.

Chamber Diameter:

1.10 in./27.94 mm.

Outside Diameter:

2.40 in./60.96 mm.

Stem Material:

Other

Filter:

None

Shape:

Calabash

Finish:

Smooth

Material:

Briar

Country:

United States