Wolfgang Becker: 8 Wasp Set with Leather Bag Tobacco Pipe
Product Number: 002-554-0031
First fashioned in 1988 or 1989, Wolfgang Becker's Wasp is his signature shape, immediately recognized by its rotund, often asymmetrical bowl, raised transition, and a shank that flares outward, likening the profile to that of its namesake insect. One of the most intriguing aspects of Wolfgang's Wasp, however, is how the German artisan is able to fashion so many different iterations. He's found a design that perfectly treads the line between shaping elements that are specific enough to define the design yet broad and general enough to give Becker a wide degree of creative license when he approaches each new piece. No two are exactly alike. Such diversity across Wolfgang's Wasp designs not only allows him more freedom in the workshop, but it also makes each shape completely individual and unique for the collector. Showcasing that diversity is this eight-pipe set comprised completely of Wasp renditions stamped #1 through #8.
While the German carver has made two- and three-day, "weekend" sets before, this was the first time he's attempted anything of this magnitude. Considering Wolfgang's limited production rate, this set alone represents roughly one third of his usual yearly output, making it all the more significant and special within the artisan's portfolio. Most striking and significant about this Wasp set is how it showcases the diversity of Wolfgang's signature shape. It's a microcosm of the shape's 30 year history and a representation of all that's possible within the same design, and Becker has varied each piece not only in form but in finish and materials used as well — displaying everything from smooth and sandblasted textures, to partial blasts, contrast stains, and a jet-black finish. One piece is even made from Boxwood, with the shank lined with briar to ensure a consistent, sturdy tenon/mortise fit.
Wasps #2 through #7 bear Wolfgang's Double Wolf Paw grade (his second highest), while #1 and #8 have received his most prestigious honor: Becker's Signature. And the entire set comes with a leather pipe bag fashioned by Neil Flancbaum of Smokin' Holsters out of buffalo leather, deer skin, and kangaroo leather. Wolfgang uses Neil's bags personally, and this one features eight pockets for the pipes, as well as compartments for tobacco and necessary accessories. Typically, larger pipe sets will come presented in a display box or some other more decorative arrangement. Wolfgang, however, like with all of his pipes, wanted these eight pieces to be smoked and fully enjoyed as they were meant to be, and fitting these Wasps with their own travel bag encourages that practical enjoyment while catering to the needs of pipe smokers. This collection isn't meant for a museum, hidden behind sterile glass; these Wasps were made for pipe smokers, and they perfectly represent the craft of pipe making as one that produces practical art.
-Truett Smith
Fullscreen
Video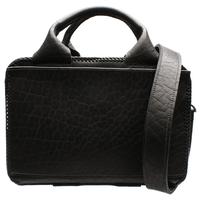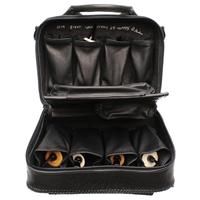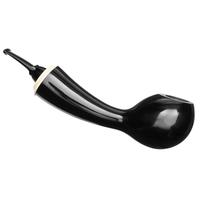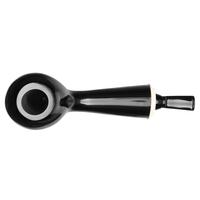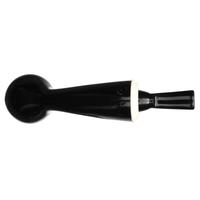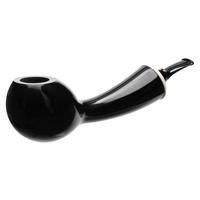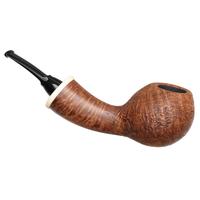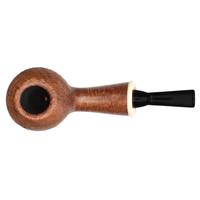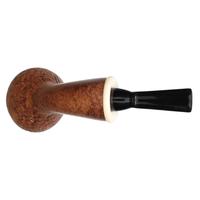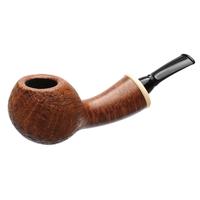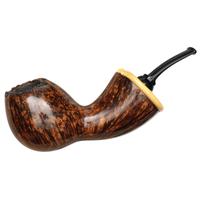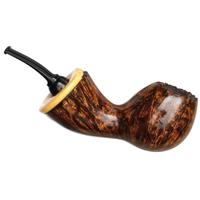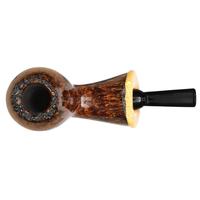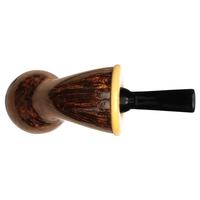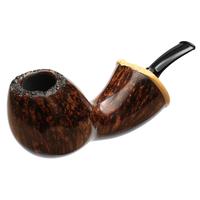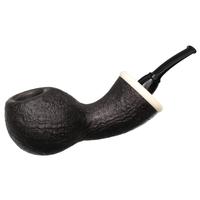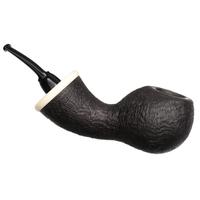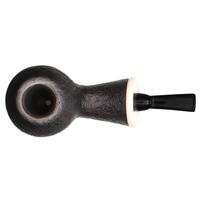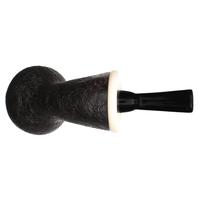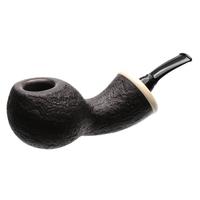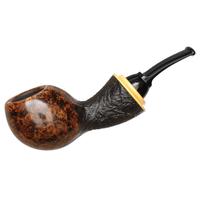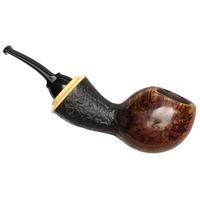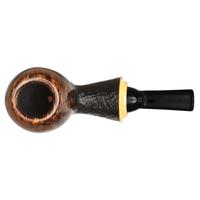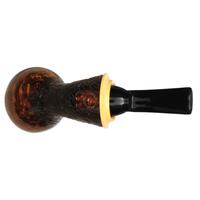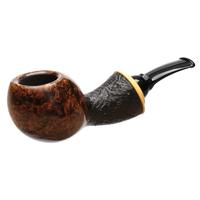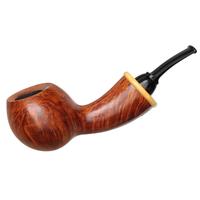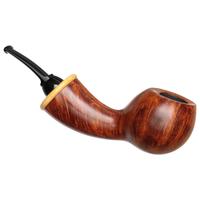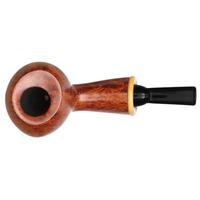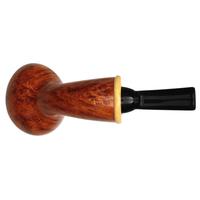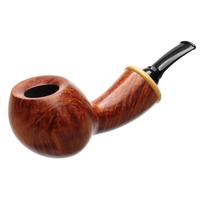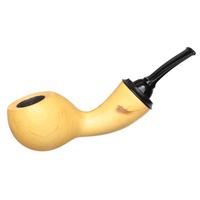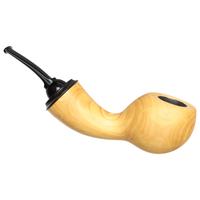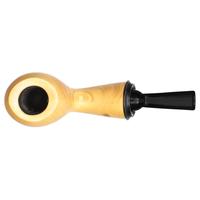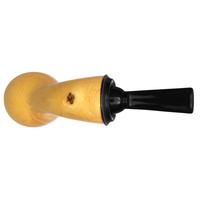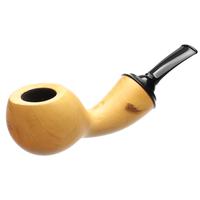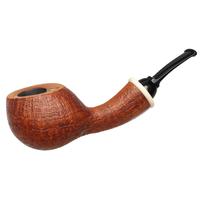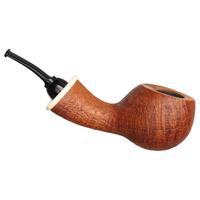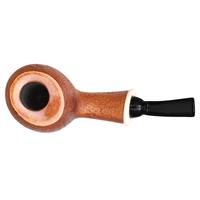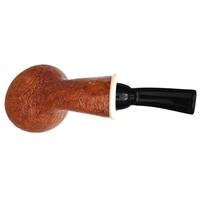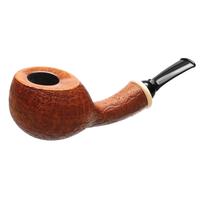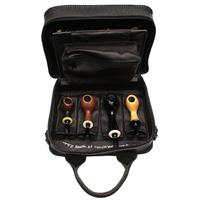 We are sorry, but this pipe has sold. Look below to find similar pipes.
Measurements & Other Details
STAMPING:
(Smooth Wasp with Mammoth (Signature) (07.19) #1)

Length: 6.81 in.

Weight: 3.3 oz.

Chamber Diameter: 0.78 in.

Chamber Depth: 1.38 in.

Outside Diameter: 1.91 in.

Bowl Height: 1.86 in.

Stem Material: Vulcanite
(Partially Sandblasted Wasp with Mammoth (Double Wolf Paw) #2)

Length: 5.43 in.

Weight: 2.5 oz.

Chamber Diameter: 0.79 in.

Chamber Depth: 1.26 in.

Outside Diameter: 1.90 in.

Bowl Height: 1.72 in.

Stem Material: Vulcanite
(Smooth Wasp with Boxwood (Double Wolf Paw) #3)
Length: 5.63 in.

Weight: 4.0 oz.
Chamber Diameter: 0.79 in.

Chamber Depth: 1.60 in.
Outside Diameter: 1.95 in.

Bowl Height: 2.02 in.
Stem Material: Vulcanite
(Sandblasted Wasp with Mammoth (Double Wolf Paw) #4)

Length: 5.47 in.

Weight: 3.3 oz.

Chamber Diameter: 0.79 in.

Chamber Depth: 1.44 in.

Outside Diameter: 2.08 in.

Bowl Height: 1.78 in.

Stem Material: Vulcanite
(Partially Sandblasted Wasp with Boxwood (Double Wolf Paw) #5)

Length: 4.66 in.

Weight: 1.4 oz.

Chamber Diameter: 0.79 in.

Chamber Depth: 1.09 in.

Outside Diameter: 1.63 in.

Bowl Height: 1.51 in.

Stem Material: Vulcanite
(Smooth Wasp with Boxwood (Double Wolf Paw) #6)

Length: 5.52 in.

Weight: 2.6 oz.

Chamber Diameter: 0.79 in.

Chamber Depth: 1.27 in.

Outside Diameter: 2.18 in.

Bowl Height: 1.73 in.

Stem Material: Vulcanite
(Smooth Boxwood Wasp with Ebony (Double Wolf Paw) #7)

Length: 5.48 in.

Weight: 2.5 oz.

Chamber Diameter: 0.78 in.

Chamber Depth: 1.22 in.

Outside Diameter: 1.61 in.

Bowl Height: 1.57 in.

Stem Material: Vulcanite
(Sandblasted Wasp with Mammoth (Signature) (09.19) #8)

Length: 5.59 in.

Weight: 2.5 oz.

Chamber Diameter: 0.79 in.

Chamber Depth: 1.30 in.

Outside Diameter: 2.03 in.

Bowl Height: 1.74 in.

Stem Material: Vulcanite
Length:

5.66 in./143.76 mm.

Weight:

4.00 oz./113.40 g.

Bowl Height:

2.02 in./51.31 mm.

Chamber Depth

: 1.56 in./39.62 mm.

Chamber Diameter:

0.80 in./20.32 mm.

Outside Diameter:

1.95 in./49.53 mm.

Stem Material:

Vulcanite

Filter:

None

Shape:

Freehand

Finish:

Smooth

Material:

Briar

Country:

Germany