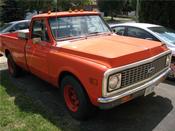 BLOCKHEAD
About Me:
Custom woodworker in Hamilton, Ontario. Smoking Latakia mixtures almost exclusively. I'd kinda rather spend my money on classic trucks than on pipes these days. That said, I keep my hand in the game, mostly collecting pipes by Mike Parks.
Reviews
Drucquer & Sons - Blairgowrie 100g
A full dry smoke
Ever interested in what Greg Pease puts out, I picked up all seven varieties of the D & sons blends. I've got to say, Blairgowrie is not really my jam. It is a full blend with the virginia's and perique taking the wheel, orientals & latakia offering modest influence. I guess I would call this a vaper blend with a pronounced oriental/latakia influence. You bet it's a good smoke, but I find myself keen to get through the tin and on to other smokes. To orient my POV, my tastes tend towards the medium English/Balkan blends. Margate, Westminster, Charing Cross, and Germain's Original Latakia Mixture are faves. In the Drucquer line, Trafalgar knocked it out of the part for me.
Favorite Products